[Site Map] [Event Calendar]
[Membership List] [Classifieds]
Volunteers needed!
The club desperately needs volunteers to help transport our raffle bike and supporting equipment and help sell raffle bike tickets to the many events we will be participating in this Spring. If you can help out please contact Wendy at Wendy@ntnoa.org.
---
Tomorrow!
Our February Club Meeting is Sunday, February 23rd at Al Lamb's Honda Dealership


9250 Lyndon B Johnson Fwy, Dallas
https://dallashonda.com
Members are encouraged to arrive early to socialize, meet new members and their guests and to look over the different assortment of antique and modern bikes. This usually occurs around noon with the formal meeting starting at 2pm.
28 March, 2020
Rocker vs Mods at Lee Harvey's on March 28th. The NTNOA will be representing with the raffle bike as usual. Volunteers needed to help sell raffle tickets, and to transport bike and gear to Lee Harvey's. The bike will need to be transported to the Little House the next day too for the NTNOA meeting and Eurosport / Al Lamb Honda Demo Day. A Big weekend!!
Click here for more information.
A Special March Club Meeting is at the Little House on March 29th
NTNOA Meeting and Eurosport Cycle and Al Lamb Honda Demo Day!
This will be another really great event coinciding with the March 29th meeting.
Richard has kindly agreed to host another Demo Day/NTNOA Meeting at the Little House. Last years event was a huge success, and this years is going to be even better.

This year Tony and Martha Lewis from Eurosport AND Al Lamb from Al Lamb's Dallas Honda are both going to be bringing a variety of demo bikes for us to ride. There will be a sign up sheet for each bike, so come early, sign up and ride 'em all!

Same requirements as last year will apply: all riders will need a valid motorcycle license, a helmet, preferably leather jacket, boots and gloves, and will be required to sign a waiver.

The event will be catered by our favorite Cajun - Bobby Vaughn. Come early and get your gumbo on! Average meal is about $10.
Due to limited parking, only 2-wheeled vehicles will be allowed to park at the little house. All others should use Uber or Lyft.

We will be setting up the raffle bike to sell tickets, and will need volunteers to man the booth.
We will start getting set up at 10:00am, the event runs from 11am to 3:30pm, with the meeting at 2pm as usual, and the last test rides at 3.30pm."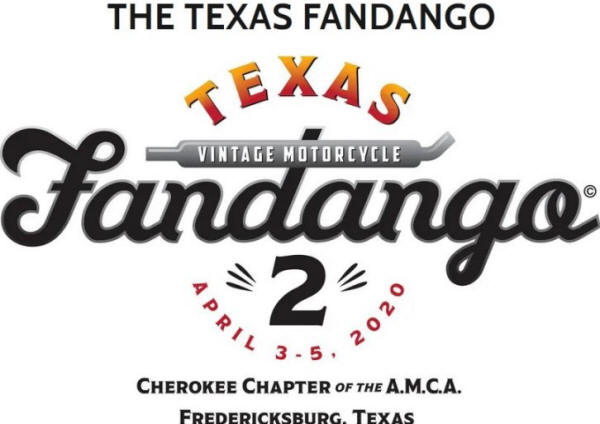 The Texas Fandango is a vintage swap meet, vintage bike show, and vintage races all rolled into one fun-packed weekend, April 3-5, 2020. The Fandango is located in the beautiful Texas Hill country at the Gillespie County Fairground in historic Fredericksburg. The premier event in Texas for any vintage motorcycle enthusiast.

We need volunteers to show their bike, sell parts etc. and help set up and sell raffle tickets (we have an indoor spot reserved). We will be setting up on Thursday, April 2nd. Come join the fun, the more the merrier. We had a great time last year.
Click here for more information.
15-17 May, 2020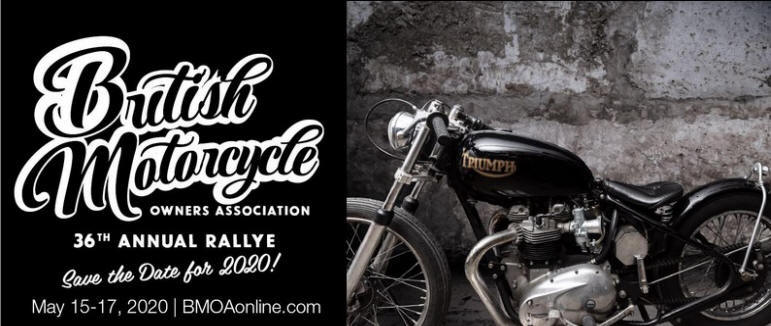 We definitely need a volunteer with truck and trailer to transport the raffle bike, maybe one other bike and all the NTNOA gear. Rob Green, Randy Bauer, Alton and I had a fantastic time last year, I highly encourage that NTNOA members to attend this event in force like we used too 8 or so years ago. The BMOA has always supported our events especially our LOP, it would be great if we could return the support at their fun rally. Lake Somerville is a really nice setting too.

I have booked myself a cabin at the Marina there for May 15 and 16, same place I stayed last year when Alton and I went down, $80 a night. If you can help out please contact me at Wendy@ntnoa.org.

Click here for more information.

Renew your membership by clicking here
Sponsor one new member for FREE by clicking here
Become a Member Now and Enjoy Extended Membership!
New Members who join and pay full dues NOW will not have to renew until August 2021!

The easiest and fastest way to join or renew is online by clicking here. You only need a Credit Card or a PayPal account. You may also join by mailing in the application form which can be found by clicking here.

Revised: February 22, 2020.
[

Contact us]

The Web Counter Indicates
hits.