[Site Map] [Event Calendar] [Team Norton]
[Membership List] New - [Classifieds]
---
This Sunday
Our September Club Meeting is at Local Moto on Sunday, Sept. 23rd.
1605 N. Beckley Ave., Dallas Click here for more information.
This just in:
The owner of Local Moto said is having "The Hamburger Man" cater our meeting. He also said he has a great selection of cold beverages.

About Local Moto:
Moto + Provisions' is for the working person who loves moto and wants to get out on the road. We keep our shop rates low, and encourage our customers to learn more about their motorcycles while hanging out in the cafe and having a beer. LMP offers a full-service moto shop, moto lifestyle merchandise, and a coffee bar + beer and wine.

Members and guests are encouraged to arrive early to socialize, meet new members and guests and look over the different assortment of antique and modern bikes. This usually occurs between 12pm and 2pm with the formal meeting starting at 2pm.
Southern Throwdown 6
Our VP, Ryan Ambrose is looking for help to sell raffle bike tickets at the Southern Throwdown 6, Sept. 30th at the Bomb Factory 2713 Canton St., Deep Ellum, Dallas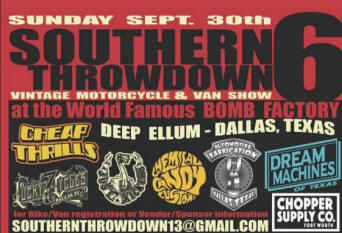 It's open to the public and about 300 people typically come to the show. It would be nice if we could get some volunteers and bikes to display. There are usually about 75-80 bikes in the show. Entry fee is $30 per bike. Vendor spots are typically $200 for a 10'x10' space however, it's free for the NTNOA. All spaces are indoors with air conditioning. For more information or if interested in volunteering email Ryan at ryan@ntnoa.org.
Distinguished Gentleman's Ride
September 30th @8:15am
"This yearís edition of the Distinguished Gentlemanís Ride promises fantastic new venues, great style, and a fun day with your fellow motorcyclists. With over 270 Dapperly Clad riders of Classic Motorcycles already signed up, this is a perfect event for NTNOA riders, or any lover of classic motorcycles.

If you havenít signed up and seen the venues and route, you are missing out. We will have an appearance by MotoKofe, who will be offering up great espresso drinks from 8:30am, at the beginning of the ride. This yearís route covers approximately 15 miles of easy riding through many of Dallasí most historic neighborhoods. We will enjoy a stocked refreshment stop along the way. After the ride and DGR After-Party and Awards, we will make a group ride over to the Southern Showdown at 2pm.

Much planning has gone into making this yearís edition an even better part of the Dallas DGR Tradition; Safe, Fun, and Beneficial to the Community.

Please visit https://www.gentlemansride.com to sign up, get all the details about the ride, and to start fundraising. If anyone is looking to volunteer, please contact me directly.

As always, if you have any questions at all about the DGR, do not hesitate to let me know.

I thank you, the Movember Foundation thanks you, and the Distinguished Gentlemanís Ride thanks you.

Stay Dapper,
Grant Wood
Dallas Ride Chairman
Distinguished Gentlemanís Ride
grant@advdallas.com"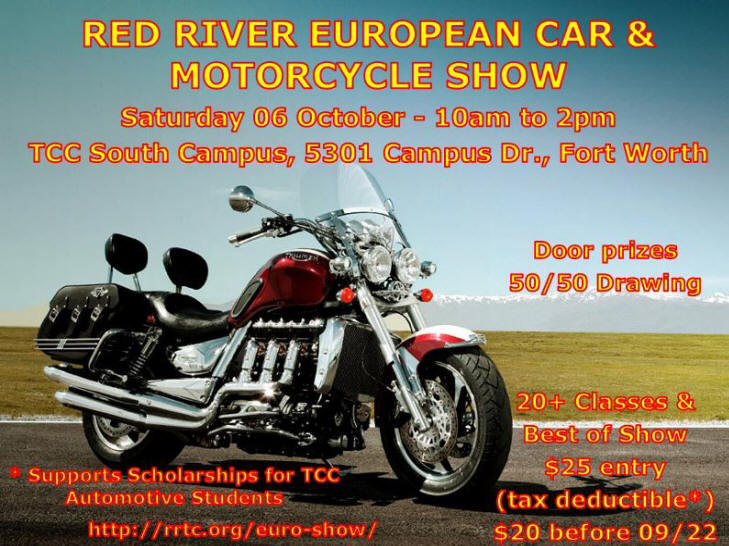 The 34th Land O' the Pines Rallye

at Diamond Don's Campground.

Rallye Chairman - Dennis Tackett Al Lamb is our Rallye Grand Marshal.
Aug 2017, for the first time ever Al Lamb and the World's Fastest Motorcycles competed on the Salar de Uyuni, Bolivia. The world's largest salt flat, at an elevation of 12,000ft. Al Lamb was on a quest to surpass his own 262.471mph FIM World Fastest Sit-On Motorcycle Record and break the 300mph barrier. However a competitor Ralph Hudson had the same idea. It was an epic fight for the title of "FIM World's Fastest Motorcycle".
Pre-register for the Land O' the Pines Rallye and save time and $5! Click here for more information.
The 16th Annual Harvest Classic Rally will be held on Oct 19th & 20th at Luckenbach, TX

Click here for more information.
Membership renewals were due in August.
The easiest and fastest way to join or renew is online by clicking here. You only need a Credit Card or a PayPal account. You may also join by mailing in the application form which can be found by clicking here.
Revised: September 19, 2018.
[
Contact us
]
The Web Counter Indicates
hits.