Members and guests are encouraged to arrive early to socialize, meet new members and guests and look over the different assortment of antique and modern bikes. This usually occurs between 12pm and 2pm with the formal meeting starting at 2pm.

After the meeting everyone is encouraged to ride to the GT- Moto's Benefit For Bethany at the Goodfriend Beer Garden & Burger House, 1154 Peavy Rd. Dallas, TX. Sunday, May 31, 2015, 3:00pm – 9:00pm. Click here for a map.

Located in East Dallas, goodfriend has 16 American taps, 5 locals only & 60 bottled beers featuring the finest in craft beers and limited availability brews, a full selection of liquor and wine, and a chef-prepared menu with something for every palette including burgers made with only grass-fed.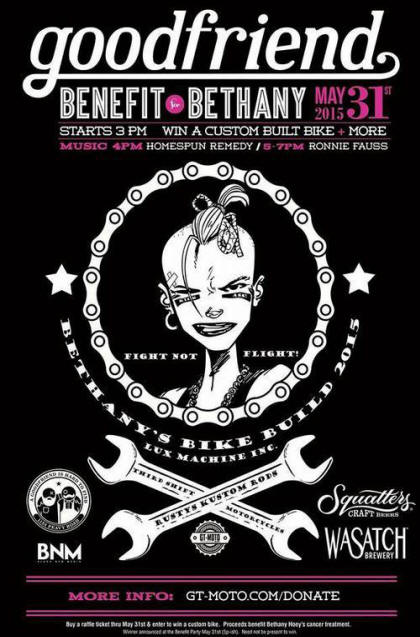 ---
COMING EVENTS:
[Every Tuesday night] - Two Wheel Social
[Every Wednesday night] - Dallas Bike Night
[Every Friday night] - Ft. Worth Bike Night
[May Club Meeting] - Pappas Bar-B-Q - May 31st
[June Club Meeting] - Strokers Dallas Bike Show - Jun. 28th
[July Club Meeting] - Southwest Superbikes - Jul. 26th
[August Club Meeting] - at Jay Pope's Residence - Aug. 30th
[British Invasion of the Ozarks] - Arkansas - Sep. 11 - 18
[Motorcycles in the Park] - Hot Springs - Sep 12th
[Lake O' the Pines Rallye] - Big Cypress Marina - Oct. 1 - 4
---
Membership is only $25/year.
Become a Member Now and Enjoy Extended Membership!
New Members who join and pay full dues NOW will not have to renew until August 2016!

Members in good standing have the opportunity to introduce one new member gratis between now and August 1. The new member will need to pay dues in August 2015 to continue in good standing. Sponsor a new member by clicking here

The easiest and fastest way to join or renew is online by clicking here. You only need a Credit Card or a PayPal account. You may also join by mailing in the application form which can be found by clicking here.