[Site Map] [Event Calendar]
[Raffle Bike Tickets] [Classifieds]
---
June Meeting & Antique Bike Show

I would like to thank a few people for the success of the Dylan's BBQ bike show. Thanks to everybody that brought and rode their bikes to show. I would say that over half the bikes in the show were rode there which is awesome!
Thanks to Dennis for helping me get this organized. This was my first try at putting together a bike show and Dennis was a huge help.
Thanks to Clay for coming with me to meet Dylan a couple of times and help plan with him Thanks to George for getting the info out on the website and Craigslist. I had quite a few people say that they saw the ad on Craigslist Thanks to Richard for sponsoring the food. Everybody loved it and were very grateful Thanks to Mike for helping out at registration and always making for sure we have all the right stuff to accept membership dues and raffle ticket sales Thanks to everybody else for sharing the event on Facebook and by word of mouth. It was great time and I look forward to hopefully doing it again

Thanks again
Ryan Ambrose

Click on photo to enlarge. Click here for Chris Parry's event photo album. Click here for Paul Valentine's album.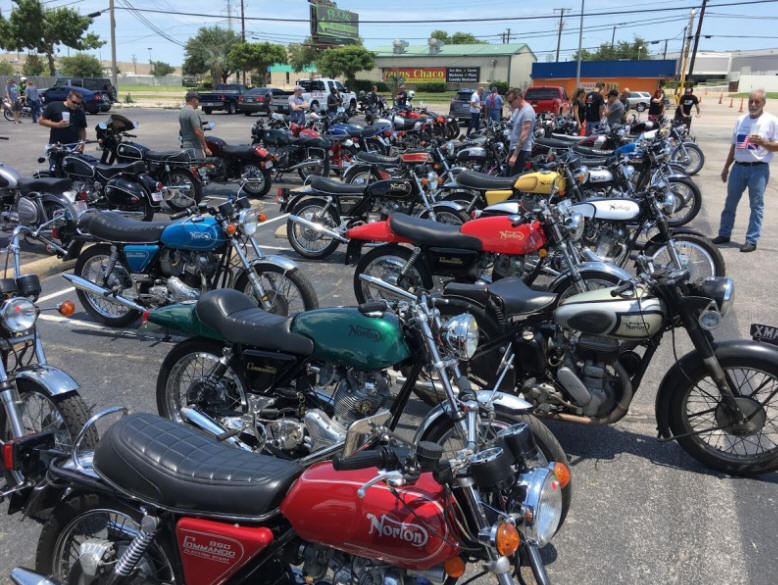 Our June Meeting was held in conjunction with an antique bike show at Dylan's Barbeque Saloon. It was perhaps our best attended meeting ever. The weather couldn't have been better and contributed to the high level of bike show participation. There were 55 antique bikes in the show and an equal number of modern bikes ridden to the meeting.

The huge success of the show belongs to our VP Ryan Ambrose and Rallye Chairman Dennis Tackett for planning, organizing and running the event. Many thanks to you both for a job exceptionally well done.
The antique bike show was free and open to all makes and models built prior to 1983, i.e., 35 years old or older. All bikes were in place by noon. There were seven categories Triumph, Norton, BSA, European, Japanese, American and Other. The judging was done by Dylan, the owner of Dylan's BBQ. The winners all received 10 raffle bike tickets, a club hat and patch. Everyone who entered a bike was given a voucher good for up to ten dollars of food at Dylan's.

Dennis started the meeting promptly at 2 pm by recognizing guests and new members. Dennis recounted his antique bike ride earlier this month in Arizona with Richard Asprey. They were joined by five members of the South California Norton Owners club. Unfortunately with temperatures above 120 there were many mechanical breakdowns and a Vincent engine fire.

There were many favorable comments about the event. There's plenty of parking for the bike show and the food at Dylan's received many compliments. The plan is to repeat this event next June at Dylan's.

It's not too early to begin planning for our Land O' the Pines annual rallye Sept. 28th to Oct. 1st at Diamond Don's campground.
Here is the list of classes, number of entries and winners

Class Number of Entries Winner
Triumph 11 Jack Tynes - 1963 Triumph 6T
Norton 12 George Tuttle - 1975 Norton Commando
BSA 2 Ernie Tacsik - 1946 BSA C10
European 11 Stewart Garrision - 1947 Vincent series B
Japanese 11 Reid Schulze - 1979 Honda CBX
AMERICAN 3 Clay Knipp - 1940 Harley Davidson
Other 5 John Welsh - 1947 Salsbury Imperial Rocket
---
Hey,

We want to celebrate summer here at RPM Cycle! So, on Wednesday, June 28th from 4pm to 8pm, we're having a Summer White Sale. Come check out the Triumph Tiger in white!

We'll have FREE food, drinks, door prizes, specials, and so much more!

Plus, I'm giving away a FREE t-shirt* to the first 36 people that go to www.MyRPMTriumph.com!

See you here,
Boris Loera

P.S. Hurry! There are only 36 FREE t-shirts* available. Visit www.MyRPMTriumph.com to get yours before they're gone.
---
U.S. Trade Representative is 'sympathetic' on Bikes for Beef tariff issue, but won't take action
Tell USTR and Congress you want action, not sympathy!
Take Action

U.S. Trade Representative Robert Lighthizer told a congressional committee that he is "sympathetic" to American motorcyclists, dealerships and others, but he cannot remove small-displacement European motorcycles from a proposed import tariff while negotiations continue in a dispute with the European Union over U.S. beef imports.

Lighthizer addressed the issue before the House Ways and Means Committee in response to a question from U. S. Rep. Jim Renacci (R-Ohio). He said that he had heard from motorcyclists and from the motorcycle industry. The exchange between Renacci and Lighthizer starts at 2:01:00 of this video.

Tell Lighthizer we need action, not sympathy!

Use the American Motorcyclist Association's convenient tools to urge the U.S. Trade Representative to withdraw this ill-conceived proposal to enact a 100 percent tariff on 51cc to 500cc motorcycles from the European Union. Motorcyclists should not be penalized with exorbitant tariffs because of a dispute over beef.

If enacted, this tariff will cause serious and irreversible harm to American small- and medium-sized business owners who sell the vehicles. Additionally, consumers will be denied access to certain models of competition and recreational motorcycles that contribute to the lifestyle and wellbeing of millions of American families.

The time is now to voice our continued, strong opposition to the proposal. America's motorcyclists aren't pawns in a game of international chess. Take action now to protect against significant hardships this tariff will cause to hardworking, everyday tax-paying Americans.

Tell Ambassador Lighthizer and Congress to remove motorcycles from the proposed tariff. Make our voice stronger by sharing the AMA Action Alert. Share with your friends on Facebook.

Now more than ever, it is crucial that you and your riding friends become members of the AMA to help protect our riding freedoms. More members mean more clout against the opponents of motorcycling. That support will help fight for your rights - on the road, trail and racetrack and in the halls of government. If you are a motorcycle rider, join the AMA at www.americanmotorcyclist.com/membership/join.

Take Action

Membership renewals are due on August 1st of each year.

Membership dues and renewals are now $30.

The easiest and fastest way to join or renew is online by clicking here. You only need a Credit Card or a PayPal account. You may also join by mailing in the application form which can be found by clicking here.

Revised: June 27, 2017.
[

Contact us

]

The Web Counter Indicates
hits.