26th Annual Lake O' the Pines Rallye
1, 2, & 3, October, 2010
Richard Asprey - Rallye Chairman
[Grand Marshal] [Bike Show Results] [Ian's Recap] [Rolling Concours Winner]

[Roll of Honour] [Rallye Photos] [Raffle Bike Winner] [T-shirt Design]
The Club would like to thank everyone who attended the 2010 Rallye this last weekend. We had 511 participants, 120 bikes of very high quality in the show and over 70 in the Rolling Concours. Everyone had fun and no one got hurt! These excellent statistics were aided by wonderful weather, a really great atmosphere and an excellent speech by our Grand Marshal Herb Harris followed by a packed Awards Ceremony. The highlight was when Herb started and ran the Rollie Free "Bathing Suit" record-breaking Vincent - truly spectacular. We rounded off with the raffle drawing - Tony Rice was the very lucky winner of the Norton Commando raffle bike, a really nice example.

An event like this needs a lot of support and giving of time - in particular we would like to thank the following:

• Mr Herb Harris, our Grand Marshal who valiantly overcame several obstacles to make it to the Rallye
• Mr Gene Brown who brought several wonderful bikes from Colorado, but especially his Brough Superior!
• Aggressive Insurance who provided the cash awards for the Rolling Concours and also our Saturday Evening Dinner gratis
• All our business and individual supporters - please note that we are constructing our Rallye Recap page which will include a Roll of Honor in recognition of their contributions

Thank you,
Richard Asprey, Rallye Chairman and Chris Parry, NTNOA President
---
Over 500 people displaying 120 of the finest vintage British, European, Japanese, Pacific Rim and American motorcycles anywhere in the country attended this year's rallye. Over 100 riders took part in the Rolling Concours and everyone enjoyed a weekend full of great entertainment and fun.
Herb Harris - Grand Marshal
Click here for a short autobiography.
Rollie Free at Bonneville 1948 Herb with the Bathing Suit Bike at Pebble Beach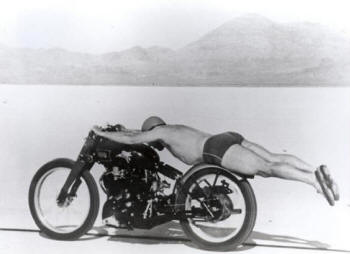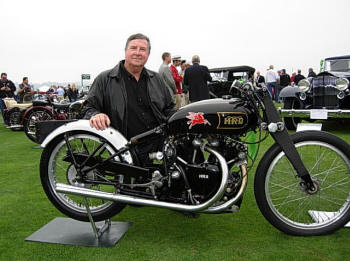 Click on photos to enlarge. Click here to check out the Bathing Suit Bike.
Herb Harris, the renowned Vincent expert and collector was the Grand Marshal of this year's Rallye! It was a wonderful opportunity for everyone to see and hear the world-famous Vincent Black Lightning, aka "Bathing Suit Bike." Rollie Free rode it to a world record of 150.313 mph at the Bonneville Salt Flats back in September 1948 wearing nothing but a bathing suit.

In December, 2010 Herb Harris sold the famous Bathing Suit Bike. Rumor has it that it sold for around one million dollars which more than doubles the previous record for a motorcycle sale. In its place now resides a Ducati V-4 Desmosedici.
---
#
Class Description
Winner(s)
Year/Make/Model
1
NORTON (Pre-Commando)
1st Richard Asprey
'64 Norton Atlas
2
NORTON COMMANDO
1st Stuart Garrison
2nd Steve Ledbetter
3rd Rick Kallenberg
'68 Fastback
'75 MKIII
'74 Roadster
3
TRIUMPH (Pre-Unit)
1st Elvis Jr.
'59 Speed Twin
4
TRIUMPH (1963 - 1970)
1st Shawn McCluskey
2nd Mike Fairchild
'70 T100R Daytona
'69 TR6C
5
TRIUMPH (1971 - 1985)
1st Dennis Tackett
2nd Chris Parry
'77 T140 Bonneville
'79 T140E Bonneville
6
BSA
1st Gene Brown
2nd Joe Rosson
'61 Goldstar
'41 WD M20
7
GERMAN (1969 & Older)
1st Andy Fletcher
'48 BMW R-35
8
GERMAN (1970 - 1985)
1st Ron Bleau
2nd Mike Cook
3rd Daniel Pace
'73 BMW R60
'77 BMW R100/7
'76 BMW R75/6
9
ITALIAN ( 1985 & Older)
1st Jason Small
2nd John Bushong
'51 Mondial 200
'73 Laverda 3C
10
ANTIQUE (1960 & Older)
1st Gene Brown
'38 Brough Superior
11
COMPETITION (Ed Mabry Award)
1st Tom Willis
'71 Montesa Cota 247
12
SIDECAR (British & European)
1st Paul Lehrer
'68 BMW R50/2
13
OTHER BRITISH & EUROPEAN (1985 and older)
1st Vincenzo Murphy
2nd Perry Bushong
'24 Beardmore Presision
'53 Matchles G9
14
PACIFIC RIM (1985 and older)
1st Mark Northcutt
2nd Brad Schneider
'72 Yamaha XS 650
'75 Honda CB400F
15
AMERICAN (1985 and older)
1st Dennis Leggett
2nd Terry Weiss
'36 Indian Scout
'42 Indian Chief
16
MODERN (1986 on)
1st Steve Hampton
2nd Dawg
3rd David Arnold
'93 Moto Guzzi Daytona
'08 Triumph Rocket III
'05 Triumph Rocket III
17
MODIFIED STREET
(Caféd / Chopped / Bobbed / Special)
1st Bill Decker
2nd Perry Bushong
Vincent/Norton
BMW R100S Cafe
18
CONCOURS (Jack Wilson Memorial)
1st Gene Brown
'52 Vincent Black Lightning
19
PIT BIKE / MINI BIKE (250cc or less / any year)
1st Phil Dansby
'67 Triumph Cub
20
PEOPLES CHOICE
1st Gene Brown
'38 Brough Superior
ROLLING CONCOURS
1st Phil Dansby
2nd Allen Soloman
3rd Lili Murphy
'73 Norton Production Racer
'53 AJS
'63 Honda Dream
OLDEST RIDER
(Jim Flowers & Charles Busbee Memorial)
Ward Hogue
Royal Enfield
YOUNGEST RIDER (Jim Gabrielson Memorial)
Michael Sullivan
82 Yamaha Virago 750
LONGEST DISTANCE Ridden to the Rallye
(Kevin Edwards Memorial)
Jay Motes
50's model BSA single
1,380 miles from Wickenburg AZ
BEST NORTON - Ridden to the Rally
Tim Panizza
'73 850 Commando
BEST TRIUMPH - Ridden to the Rally
David Lyles
'05 Triumph Thruxton
BEST ITALIAN - Ridden to the Rally
(Derrel Robertson Memorial)
Stefano Rocchi
'08 Aprilia Tuono
BEST GERMAN - Ridden to the Rally

Paul Lehrer

'68 BMW R50/2 with Sidecar
Rolling Concours Winner was Phil Dansby and his Norton Production Racer.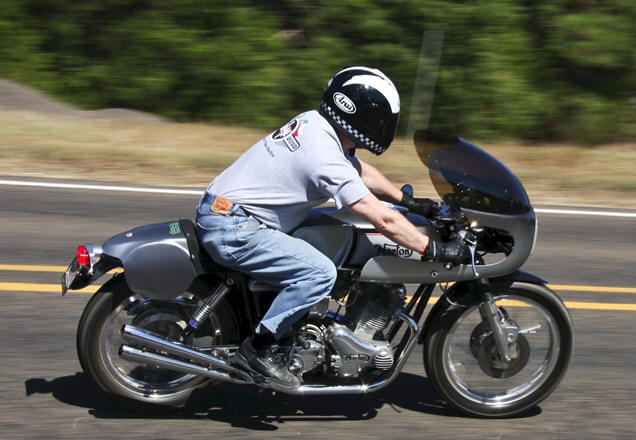 Click here to see the route.
This event was open to all street legal motorcycles at least 30-years old. Entrants were required to attend a riders briefing and complete a 24-mile road course loop to be eligible. Riders received a medallion at the certification stop which was half way through the ride. Upon return, eligible bikes were parked in an impound area for judging. No wiping or polishing was allowed in the impound area. We wanted to see rare bikes in riding condition, so bugs and dirt from the ride were considered a plus!
First place included a trophy and a $250.00 cash prize.
Second place = $150
Third place = $50
---
Tony Rice of Rockwall, TX won the Raffle Bike

A 1975 MKIII Norton Electric Start Commando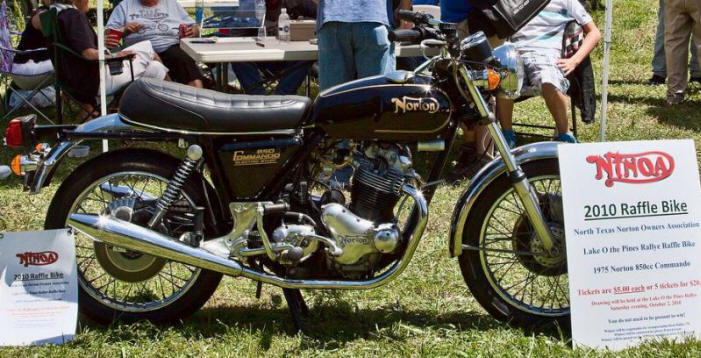 ---
Lake O' the Pines Recap
by Ian Calvert
What was the highlight of my weekend? Well, I went down South to Texas for an NTNOA motor bike rally, (North Texas Norton Owners Association), of which I'm still a member, but last attended a Lake O' the Pines rally seven years ago. The reason for the hiatus? I was lured up North by a shiny Bank One job that turned into something a very different and certainly wasn't a highlight, but we won't get into that.

I arrived at Columbus Airport with 29 minutes to spare, and that was my first problem. When flying with ample time you never really need it but if you turn up just one minute past the comfort zone, suddenly everything that can go wrong, does go wrong! First, the stupid machine wouldn't print my boarding pass so I had to badger the check-in agent to print one, after blithely strolling past a long queue of irate travelers. Suckers! But that wasn't the highlight of the trip. I get to security with twenty minutes to spare and that's when the kind security folks found my long lost hip flask. Apparently it had hidden itself in a compartment in my luggage, after being abused on a trip to Canada, but the airport X-rays spotted it and suddenly it became the focus of attention for half a dozen uniforms. That wasn't the highlight either. They weren't so concerned with the alcohol as with checking that their explosive sniffer machine worked. It didn't! So with ten minutes to spare they went hunting for another one and told me not to touch anything while they were gone. When they finally came back, and gave me the all-clear, I legged it to the gate and sweatily clambered aboard just as the doors closed, which was certainly a relief but not the highlight of the trip.

A quick drive from the airport to Corinth where I get changed and jump on Chris' Tiger to trundle over to Jefferson, which could have been the highlight of the trip but I'd forgotten about Dallas traffic. Two hours later I was still making my way across the I30 bridge over Lake Ray Hubbard so when I finally made it out East it was black as night and twice as scary down those winding country lanes., That certainly wasn't the highlight of the trip! The Tiger performed admirably, right up to the point where I missed my turn onto FM723(?) and took the "Joe Davis Rd" instead. Anyone contemplating the Joe Davis Rd should seriously consider a hover craft, or a mule, or possible a piggy back from a kindly stranger, but certainly not a tall Triumph Tiger to get through the soft, squirrely, sandy shite that piles up in drifts along three and a half miles of arm wrenching, shoulder straining, toe twitching torture so when I finally arrived at Lake O' the Pines, after nearly dropping the Tiger I the dark half a dozen times, Chris took one look at me, thrust a beer in my hand and shoved me on a golf cart. Aren't Golf Carts wonderful? I never realised but they're absolutely fabulous, (Channeling Dudley Moor from "Arthur" here). I mean, they are the only vehicle where, not only is it allowed, but positively demanded that you will be driving with a beer in one hand while steering with the other, when you aren't waving two fifths of your fingers at passers-by. Like I say. Fabulous! But not the highlight of the trip.

Back at the tent, (Did I mention we were camping? A highlight, that is not!), we decide it's early days yet and proceed to wander the camp fires, a bit like Henry V,… but without Henry. Chris proceeded to introduce me to a bunch of drunken, blurry shadows with the covert intention of making me feel like a total berk when I failed to recognise any of them the following day. Of course I did have the distinct advantage that I could pretend to be that other 6-foot-four-British-wanker provided they didn't get a good look at me, so I played along. Right up to the point where Chris decides to leap across roaring camp fires. This turned out to be a prelude to Saturday night's entertainment when the local Sherriff comes by with a Burn Notice on Chris. Apparently, Shreveport was complaining that the fires were too big, plus there had been several forest fires that season, so could we tone it down a bit? At which point I suggested it might help if the fire leapers wore kilts.

The highlight of Saturday night certainly wasn't Richard swapping jerseys with the lithe brunette administering breathalyzer tests. Anyone witnessing those proceedings was torn between the pleasure and pain of their gaze being wrenched from finely formed flesh to finding a fleshy form. There was almost a highlight with a surreal rendition of Woodstock when a lady of indeterminate age, but sporting a very respectable top-set, decided to get her kit off and dance naked around the camp fire. Not just topless mind; but tops and tails! Of course, by that time no-one really batted an eyelid. If we were going to bat anything it would be Richard who was plying a certain Jane Doe (name changed to protect the guilty); sooo dribbly drunk by this time, that she neglected to refuse his bucket of Rum'n'Coke! This led to an in-depth analysis of the contents of her stomach that progressed steadily through the night. Luckily I'm a sound sleeper so I could retain my sympathy till the following day, when I laughed like a drain.

So the trip itself could have been the highlight, despite the whole camping thing. Lake O' the Pines is a beautiful spot and the weather was perfect. Sunny but not too hot with nice cool boozes. Of course the whole Norton Owner's thing tends to attract a bunch of hairy-arsed bikers that spend all their time reminiscing about AMAL Carbs, (smell my finger!), and licking tyres, when they're not searching their beards for lost morsels of food, but it's very comradely and the riding is great. We saw, and heard the Rollie Free, Vincent "Bathing Suit Bike" that took the land speed record in 1948 at 150.313 mph, by stripping down to his skivvies and lying flat on the tank! Outstanding. Come to think of it that was the highlight of the trip!
---
LOP Rallye T-shirt Front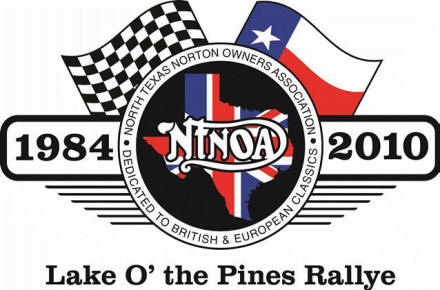 LOP Rallye T-shirt Back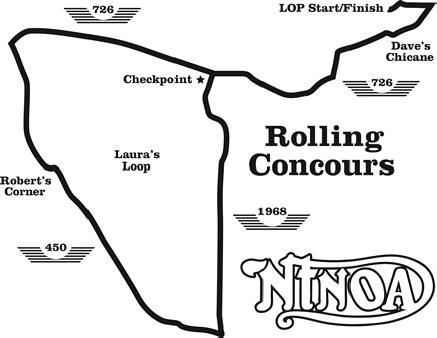 ---
Lake O' the Pines Rally Recaps:
['09 Lake O' the Pines Rally]
['08 Lake O' the Pines Rally]
['06 Lake O' the Pines Rally]
['05 Lake O' the Pines Rally]
['04 Lake O' the Pines Rally]
['03 Lake O' the Pines Rally]
['02 Lake O' the Pines Rally]
['01 Lake O' the Pines Rally]
['00 Lake O' the Pines Rally]
---