2018 Spring Hill Country Ride.
The 2018 Spring Hill Country Ride is Thursday, April 26th through Sunday, April 28th.
Our annual Spring Hill Country ride is a gathering of British & European vintage motorcycles.
The itinerary for his year's Spring Hill Country Ride is different and unique. It will start on Thursday, April 26th in Leakey through Sunday, April 29th. After a quiet and restful three days, in Leakey we will continue our leisurely trip to the following locals:

Sunday April 29th to San Marcos TX. Monday April 30th we ride to the Harris Hill Raceway in San Marcos. It is a private track that we have booked for the day from 2.00 pm till dark. Tuesday, May 1 we ride to the famous YO Ranch in Kerrville and meet up at the National Vincent Owners Rally. On Wednesday, May 2 we ride to the River Inn Resort in Hunt, TX Thursday, May 3 we ride back to DFW for rest and relaxation.

Unfortunately, lodging will be extremely tight due to vast activities happening in the Hill Country. Our treasurer Mike Mediterraneo needs to know if you plan on attending. He can be contacted at Mike@ntnoa.org.

This photo was taken on Saturday last year at the Leakey Inn prior to the ride to Allen Johncock's Lone Star Motorcycle Museum.
Photo is courtesy of Daniel Peirce, Lord of Light, Master of the Pixel, www.trickphotog.com
Click on photo to enlarge to full size. This is a very large photo of over 1Mbs.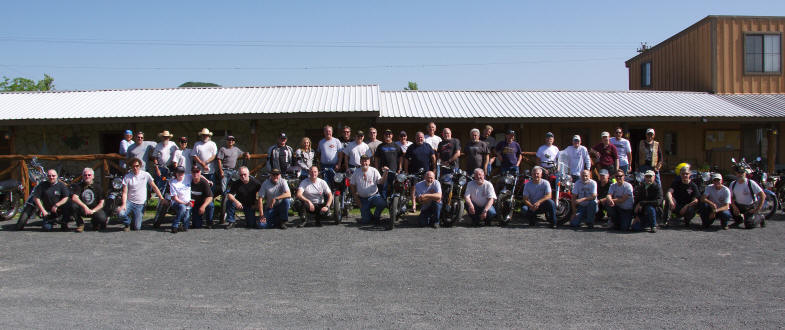 ---
Copyright © 2000 NTNOA All rights reserved.
Revised: March 28, 2018 .