Most reliable motorcycles
Japanese bikes have fewer problems than BMW and Harley models
Consumer Reports magazine: May 2013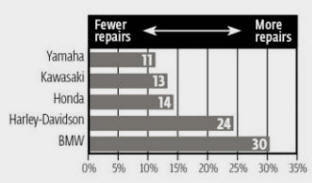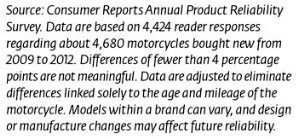 Yes, the artfully sculpted lines of a BMW motorcycle and the throaty rumble of a Harley-Davidson V-twin motor can stir your senses. But they're often accompanied by more problems than Japanese motorcycles from Honda, Kawasaki, and Yamaha. Those are the
findings from our first motorcycle reliability survey
, conducted by the Consumer Reports National Research Center, in which we asked subscribers to tell us about any serious problems or repairs they had experienced with their bikes in the previous four years.
As more people take up motorcycle riding, whether to save gas or simply pursue a new or rekindled passion, those new findings can help you avoid problems when you shop for one.

Overall, about one-fifth of the 4,680 bikes for which we received data experienced a major problem in that time period, with the odds varying significantly among brands. The chances for a problem ranged from about 1 in 10 for Yamaha motorcycles to almost 1 in 3 for BMWs and about 1 in 4 for Harley-Davidsons.

Although we didn't receive adequate data to include Suzuki and Triumph motorcycles in our analysis, the responses we got suggest that Suzukis provided similar reliability as the other Japanese brands and Triumphs were among the more problematic brands.

We also found that reliability can vary a lot by the type of bike. Looking at the five brands in our analysis, owners of touring models had the most problems, at 27 percent. That was followed by on/off-road dual-sports (23 percent), sport touring bikes (19 percent), and cruisers (16 percent). Though we didn't receive sufficient data to rate high-performance sport bikes, the information we got suggests they have been as reliable as cruisers.
What's going wrong
Among the bikes that needed repairs, respondents reported having the most trouble with accessories, such as lights, instruments, switches, and radios (21 percent); brakes (20 percent); the electrical system (16 percent); and the fuel system (15 percent). Our experts suggest that some of the fuel-system problems may be due to improper storage during the off-season.

Mechanical engine problems were relatively rare, with only 3 percent having trouble with the cylinder head or valvetrain, or with the crankcase, crankshaft, or pistons. Similarly, only 3 percent needed transmission repairs, although 7 percent had clutch problems.

Fortunately, most repairs were fairly inexpensive and were performed quickly. Seventy-five percent of all repairs cost less than $200 out-of-pocket, and about two-thirds of the repaired bikes were back on the road within a couple of days.
Satisfying brands
Despite the higher number of problems, Harley and BMW owners were among the most satisfied with their bikes. When we asked whether, considering everything, they would buy their bike again if they had it to do over, 75 percent of Harley owners said definitely yes, closely followed by 74 percent of BMW owners and 72 percent of Honda owners. By contrast, only 63 and 60 percent of Yamaha and Kawasaki owners, respectively, were as emphatic.

In our car-owner satisfaction surveys, we've seen that models that generate enthusiasm—including sports cars and fuel-scrimping hybrids—tend to do the best in this subjective measure. Perhaps sculpted lines and rumbling engines also strike the right note among motorcyclists.
What your mechanic wants you to know
Motorcyclists could easily prevent many of the problems they encounter. That's the unvarnished message we got from motorcycle mechanics from around the country who discussed common problems they see in their shops. Here's how to prevent unnecessary expense and downtime:
Stay on top of maintenance. What makes mechanics shake their heads are the regular and egregious examples of neglected maintenance: brake pads worn down to the metal, drive belts and air filters with holes from rocks worn in them, and long-overdue oil changes.

"Preventive maintenance is definitely the key to motorcycle longevity and keeping your maintenance cost down," says Joe Dane, master Harley-Davidson mechanic at Motorcycles of Manchester, in N.H. In addition to engine oil, that includes changing brake fluid, which can absorb moisture; lubing chains; aligning wheels, steering heads, and drive belts; and cleaning or changing air filters.


Keep your tires properly inflated. Each mechanic mentioned low tire pressure as a consistent problem. When tires are underinflated, "handling gets really hard, steering gets hard, and the bike doesn't want to lean," says Mike Franklin, owner of Mike's Garage in Los Angeles. "It causes all kinds of problems." Check the tires' pressure weekly.


Check the brakes. Motorcycle brake pads cost as little as $50, says Dane, but once they've worn too far, "you have to replace the rotors and everything else, and the bill jumps up enormously." Franklin adds, "When the [brake pads] get down to metal-on-metal, they make an unholy grinding noise. And yet people just continue to ride them."


Inspect your bike regularly. "Really check your bike over before any long trip," Dane says. A lot of maintenance is simple stuff that you can easily see: lights, forks, and belts or chains. "Make sure you have no leaks," he adds.

Jon Roppe, chief Harley-Davidson instructor at the Motorcycle Mechanics Institute in Phoenix, says, "Everybody wants their bike to look amazing, but they tend to really lose the safety aspect."


Store the bike properly. Motorcycle storage is a big issue. "It's the guys who let their bikes sit for weeks and months at a time that run into problems with failures," Roppe says. His advice: Use fuel stabilizer to keep filters, pumps, carburetors, and fuel injectors from clogging. Lift the tires off the ground to prevent cracking and flat spots. Put a tender, or trickle charger, on the battery to keep it charged. And if you can, store your bike in a garage or under a cover out of the wind.
Antilock brakes: A real lifesaver

A welcome trend in motorcycle technology is the growing availability of antilock brakes. Bikes equipped with ABS are 37 percent less likely to be involved in a fatal crash, according to the Insurance Institute for Highway Safety.
The reason is simple: Locking up the brakes in a panic stop robs the rider of any steering control. That can easily lead to a skid and crash, which can result in serious injury. ABS can help prevent skids and crashes by allowing the rider to retain steering control during an emergency stop, and it can be especially valuable in slippery conditions.
This critical feature is now standard on many high-end models and adds only a few hundred dollars to the price of more basic bikes—a worthwhile investment in your safety.