China
by Dave Edinger (aka Johnny Cool - Factory Rider)
So on my 19-hour flight from Dallas to Beijing, I thought I would opt for the Japanese Dinner with Sake on that leg to get into the mood. In preparation for seventeen days of Chinese food, green tea and chop sticks. You never know what things are but it is always interesting.

As I exited the plane in Beijing a guy holding a sign with my name on it met me. Bill Chedsey from Houston was also going on the bike trip and we had agreed to meet in Beijing for a few days and work off our jet lag. We stayed at the World China Hotel a very nice 5 star hotel. Bill had arranged for a representative from the hotel to meet me. It was good since I thought all I needed was my Chinese drivers license, visa and passport. I needed three more forms at different points along the process, which the rep got for me and walked me through. He got me to the waiting Audi A6 with a driver and off I went. There is no tipping in China but I felt he needed more then a thank you. First impression during the ride, hot humid and lots of flashing neon lights. After checking in, Bill and I walked to a little bar for some Chinese beer to try and help us sleep.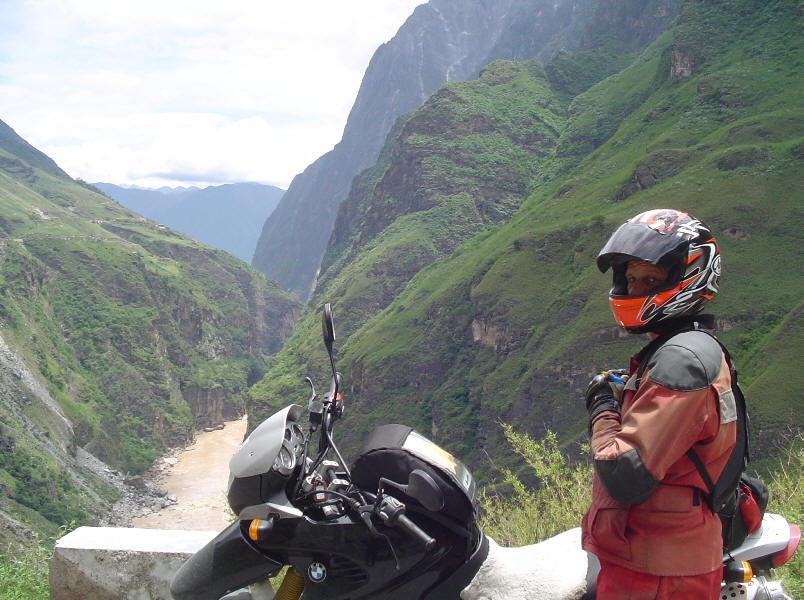 The next day we hired a driver and a guide and went to The Great Wall (that was exercise, hot, humid and steep). We also visited the Ming Tombs and the Summer Palace. The smog there was unlike anything I could have imagined. You could not see a block away. That night after an adventurous taxi ride we went to a place called "Rear Street Bar Street." The traffic on the way came to a stalemate in a major intersection and nobody could move. We did a u-turn and made it eventually. Anyway the place surrounded a small "Town Lake" with bars and restaurants and women of the evening walking amongst the crowd. It was some good people watching as I ate my Octopus. On our way out we passed a little square by the street that was full of Chinese couples dancing. We watched for a bit and then hailed a taxi.

The next day we started off on our own. We took a taxi to an ancient place called Heavens Gate. Heavens Gate was where they would worship and give thanks for that years harvest. It was impressive but like most of the city due to the upcoming Olympics part of it was being restored. While walking through, I saw a group of people playing a Chinese version of Hacky Sack. I couldn't resist and invited myself into the game. They don't use a bag, they use some round pieces of metal spaced apart with feathers coming out of the top. It felt like the bag and worked the same. They were impressed I could hang and asked if I had played before. I tried to explain the difference but failed.

From there, we were going to walk to Tiananmen Square. I spotted a rickshaw and talked Bill into taking it. He said his guidebook advised against it, and he was right. The guy diverted us off into a local Hotong (poor living area) and left us short of our destination. We felt a bit uncomfortable. As we tried to get our bearings, a group of people crowded around us offering advise. Bill felt someone brush up against him and thought they were trying to steal his wallet so we moved on down the road. We checked out Tiananmen Square and then it was onto the Forbidden City. After that we had seen all the tourist sites we needed to see for this trip. We found a place for a bite and a beer. After lunch, we took a taxi back and then I ventured off on foot to get a Chinese massage. We meet the President of the local Harley club while at dinner that night. All the members were from Europe. On every corner in Beijing some one is saying, "excuse me sir" trying to sell you something. It was wearing on us so we were ready to get on with the ride. We took another Limo / Audi ride to the airport where a girl (once again a hotel employee) met us and walked us through checkout.

In Kumming we were met by our guide, a German named Claus. Afterwards there was an introductory meeting with Claus, the other guide from China and a couple from Austria. Bill and I headed out for another massage before dinner. There was a sub group with us I had not met and they would be riding with the Chinese guide. They were nine well to do businessmen from Taiwan. That night they went up to a club within the hotel to sing Karaoke. I decided to find the party. I expected a big bar with their group over in a corner, wrong. It was the whole floor full of private party rooms. I didn't know which one or even what they looked like. I told the lady, "Taiwanese" and that did it. Upon opening the door they looked at me (white guy). I rotated my right wrist like I was gassing a bike and they signaled me in. They had food, drinks and women of the evening in there. They even got me to sing a song. As the party wound down they headed back to their rooms with their new girlfriends, I went back to my room where Bill was asleep. I tossed and turned all night excited about the ride and was exhausted the next day.

Day One: Kumming (6,000 ft.) – Dali (6,000 ft.) 432Km and 13 hours
The route started with a ride through the city of 11 million. Although it wasn't raining at the time, it had rained for days so the city was still soggy. Within a mile we saw a missing manhole cover at the last second and everyone successfully avoided it but never forgot it. Driving in China is like being in a game of chicken armed with a horn. Nobody looks they just hit their horn and merge. Most bikes in China are under 250cc so no bikes are allowed on the highway.

To get out of town we worked through traffic jams by splitting lanes, riding through mud, and swerving to avoid huge puddles. Two bikes went down just trying to get out of town. The bikes suffered minor damage and the riders were fine. The roads were poor and the traffic varied from scooters, to three wheeled tractors, buses, trucks etc. An hour or so up the road, on wet streets, in a turn, a bike went down and slipped off into a small pond. The bike was pulled out. The rider would be flown home the next day with a cracked bone in his ankle.

We stopped for lunch midday and it started to pour. We waited a bit, put our rain suits on and then as it happens it stopped. The scenery was interesting; the area was a farming province. The people were poor but I don't think they knew it. They farm every inch of land to exceed their quota and keep the overage. We got a bit more rain later but not much. As we ended the day it was dark, our shields were dirty and our headlights poor. People were remembering the manhole cover and huge storm was about to let loose on us. We struggled to find the hotel and when we finally saw it we could not get to it due to construction. As it started to rain I put the dirt bike part of the bike to use and everyone followed to the hotel. When we arrived, we found out that our luggage had been left at the original hotel! To make up for it Edelweiss paid the bar tab. It had been a long first day. We had dinner in the hotel and we called it a day. The luggage showed up in the morning via a courier.

Day Two: Dali (6,000 ft.) – Lijang (7,500 ft.) 173 Km and 4 hours
Easy day got up in the mountains for the first time. (Way up) We got a brief but hard shower along the way. We also passed a big Red Army training area, complete with tanks and troops. The hotel was picturesque, small and decorated inside and out in traditional Chinese styling. Once settled in I ventured into the old part of town, bought some souvenirs, found a place for lunch and strolled through the market where I saw some old dogs tied up for sale. (Yes, to eat). Then I went to go find another massage and got it for $6. For dinner we went back into the old city. It was alive with people. Dancers wearing authentic dress were doing traditional dances in the square. I got my first try eating bee larvae. It looked like bees and was on the chewy side. After dinner it was back to the courtyard for toasting and man talk with both groups of riders.

Day Three: Lijang (7,500 ft.) – Zhongdian (9,000 ft.) 275 Km and 9 hours
Started with our first all Chinese breakfast. Odd that there was nothing to drink! The Taiwanese brought instant coffee since you could not get any anywhere. This was nice after drinking so much hot tea with every meal. After breakfast I noticed my rear tire was flat. Several tries and two hours later the tire was pronounced ready. The Taiwanese had headed off so it was just our group. That afternoon we rode the most beautiful stretch and most of it was unpaved. We caught up with the other group at lunch. One of their guys had put diesel in his tank. Great group lunch, at this point it is all chopsticks, all items served are meant to be shared. There is never a lack of food. Leaving the gorge we hit good pavement and twisties. Then with 40 km to go I got my second flat. It was decided after much debate to let a lighter rider ride my bike with the tire completely flat. He would stand up on the pegs and try to load the weight on the front. It was crazy and dangerous. The rear tire walked all over as I rode behind him shaking my head. In about 20 miles the truck showed up. The bike was loaded and I rode the last leg on the back of the guide's bike. The nice thing is I got a new tire out of it, which I really wanted. That night we were close to Tibet and Burma so the people, dress and buildings were different. There is less farming and more ranching. This was our first rain free day. The hotel was nice, quaint but had no elevators. Getting to our third floor room – at this altitude had us puffing.

Day Four: Rest Day in Zhongdian (9,000 ft.) 90 Km and 3 hours
Rest day so we slept in, had breakfast and walked to town to finish shopping for the few gifts I planned to tote around. Afterward we climbed some steep steps to a Buddhist Monastery. When you do anything at the Monastery it needs to be clockwise or it is bad luck. After lunch no one wanted to ride so the guide and I went off exploring down a dirt road. As we were leaving young school kids surrounded us. I let two of them turn my throttle and of course it was not just a bit but to the delight of the other boys it was full throttle. The road was rough, rutted and had potholes but doable on a dual sport. After 48 Km through the mountains we hit a village. Both of us believed we might be the first Anglos to ever visit. After some Chinese "surprise" snack, water and some pictures with the locals we headed back. Upon my return I went into town for a massage. For 100 minutes with snacks and hot tea it cost $15.

Day Five: Zhongdian (9,000 ft.) – Xiangcheng (10,500 ft.) 380 Km and 91/2 hours
Today we started with our third flat, but it was not mine. So our group headed off, while they dealt with it. We hit some construction-leaving town. It was strange that a large dump truck in the oncoming lane was stopped due to a small pothole. The driver was nowhere to be found. The entire lane of oncoming traffic waited while a little old lady collected rocks to put in the hole. Then we had great roads and more twisties, followed by about 30 Km of construction and dirt. There were nice gorges, rivers; two mountain passes with one being up to 12,500 ft. One of the Taiwanese felt some altitude sickness and ended up in the support van for the rest of the trip. He like the rest of us had been proactive taking medication to keep it at bay. One of the bikes had a battery die and was quickly exchanged. The support truck got a leak in its diesel tank in the middle of nowhere. Then the police pulled us over for the third time. For some reason you cannot ride a bike in the daylight with your lights on and the BMW's cannot turn them off. That evening we searched and found a place to get foot massages after dinner with some of the others.

Day Six: Xiangcheng (10,500 ft.) – Litang (13,000 ft.) 217Km and 5 ½ hours
Three passes today - the second was the apex at 14,000 ft.- two thousand higher then the tree line, no pavement, or guard rails, (What I have been waiting for). We stopped at a Buddhist Monastery where a young monk (about nine) spotted us and signaled for us to follow. He gave us the tour without speaking a word; we lit candles, made small donations. We were signaled over by a meditating monk after the donation. He opened a jar and took two red pellets out and motioned for me to swallow them. Then the young monk gave each of us small silk scarves. Then we went to lunch at a place in a nearby town. As always we were the center of attention especially the GPS mounted on the guide's bike. We later passed a small festival and stopped for pictures. The guide gave one of the locals a "fast" ride on his bike to the thrill of the bystanders. Once in town we sat on a step to drink a beer and watch the world go by. We noticed across the street a makeshift shooting gallery where the weapons were copies of my semi automatic SKS. I could not resist and went over for my turn. The crowd was expecting the great white hunter but the cheap pellet guns left me with only two hits. While watching a small calf eat the fringe off a scooters handle bar an English girl wandered by. She was traveling alone for 5 weeks with just her Lonely Planet Guide. She knew no Chinese and relied solely on public transportation. Impressive. We then went for a walk through the streets and the local market. We bought some pastries to supplement the anticipated Tibetan breakfast the next day that leaves a bit to be desired including Yak tea, terrible! (A Yak is the local form of cow). The hotel was ornately decorated and came with a dog tied up out front barking all night, one shower / tub for the entire hotel that didn't seem to work an most notably and open community toilet. It was a trough. Be sure to bring your own TP. Actually you never went anywhere with out your own stash of TP in your back pocket supplemented by backup on the bike.

Day Seven: Litang (13,000 ft.) – Yaijiang (9,000 ft.) 140 Km and 3 ½ hours
The Taiwanese left at first light due to the uncomfortable beds and the barking dog. They wanted to get to the next day's hotel a short ride away for sleep. Our first stop was one more Monastery. I had seen enough so I waited with Claus at the bikes while the others took the walk up the hill. Most of the day we rode at about 12 to 14,000 ft. It seemed like we rode across the tops of the mountains. There was lots of Yak herds and the nomads that live amongst them. We could not find our lunch destination but that was fine, it was a short ride anyway. The road today could best be described, as "it once was a road." At the hotel they did not know who we were and our lack of Chinese did not help. After a phone call to the Chinese-speaking guide we checked in and had lunch. They had just fumigated the restaurant, which did not seem to bother them but I asked that we eat in the lobby instead. After lunch we headed for the rooms where the guide had arranged for us to get massages ($5.75 an hour). The shower in the room was wide open pouring out onto the floor but at least we had our own Bathroom. The water in the toilet was brown as was the shower water. They also don't supply soap or shampoo in this part of the country.

Day Eight: Yaijiang (9,000 ft.) – Danba (6,000 ft.) 249Km and 7 ½ hours
The day started bad, the most miserable day yet. It was raining, and the road was the worst so far. Picture a road after an earthquake with cracks, uneven road surface, and potholes filled with water, water pouring across the road, and fog. Then add in a military convoy going up the pass with 82 trucks on a narrow twisty bad road. The rain continued but slowed after lunch. One of the Taiwanese had their bike go down hurting his foot and he wasn't able to ride for the rest of the trip but stayed with us. Later in the afternoon we entered this beautiful valley and the sun came out. The adjacent river was swollen from the rains and roared through the valley. There were numerous rock and mudslides. At one point the rocks were still coming down. We decided to continue onto a town up in the mountains that is said to be the most beautiful town in China. Although relatively new at only 600 years old. We picked up a tour guide-et that rode on my bike. After some pictures, we went into this farmer's home for a tour and to see how they lived. After dinner that evening we found this walking street where crowds were doing a sort of circle dance. We also met two American women who were over there mountain biking.

Day Nine: Danba (6,000 ft.) – Dujiangyan (3,000 ft.) 317 Km and 9 ½ miles
The day started out with rain again but this time I knew at the other end was e-mail and English speaking T.V. stations since we were going to stay at a resort. The roads were not to bad and we hit the last pass of the trip. The rock and mudslides had now become commonplace. Later we stopped at a famous Panda reserve. Then it was onto the resort. That evening Bill and I gave out little Texas mementos announcing the other riders as Honorary Texans. By the way, the only English-speaking channel was …The Fashion Channel, it could have been worse.

Day Ten: Dujiangyan (3,000 ft.) – Chengdu (1,500 ft.) 100 Km and 2 hours
It was a hot, humid stroll into our final destination. Claus got the honor of the last flat tire on the trip. It was a very nice hotel, where I got one last massage. We turned the bikes in and had a final dinner while the Taiwanese went out for more Karaoke.

The next day we flew back to Beijing where Bill continued on. Due to my flight schedule I had to find a local dive airport hotel and spend the night before my departure home. I stayed in the room and watched one English-speaking movie after another to get my T.V. fix. I tossed and turned all night worried I would miss the early flight. The first leg was Beijing to Tokyo for a 6-hour layover and then home to Dallas.Impressions:

The Roads: The roads for the most part are badly in need of repair. Drivers seem to drive in the center of the road and they just hit their horn going into turns. The horn is an integral part of driving. I thought it was to warn people. But in China it is also used to announce your presence as you enter town. Sort of, "Hey look at me". The roads are also not just for travelers. People will park their tractor sideways on the road to shovel dirt for bricks or cut bushes for wood. They will stop right in the middle and sit in front of it to have a picnic.

Tractors: Two different types: In the farmland of the South, the people's tractor is a single cylinder 18 Hp (22 max) 4 stroke. It is semi enclosed in the back and has conventional steering. In central China it is all-open. It has pull back handlebars like a chopper. You lift the bars to slow the engine and vise versa. This is also their truck, teenage cruiser and people transporter.

Animals: Are all over the road and show no fear except for the sheep. They won't even give you a second look on the road. They have lived their whole life grazing along the unfenced road and will lie right in the middle and make you go around. Calves will walk down the city street with pedestrians.

Yaks: Look like sickly steers with fur. The Chinese get everything from them including tea, milk, butter, wax, and jerky just to mention a few items.

Pool Tables: They are outside everywhere, including the nomad camps. They cover them with plastic at night. Usually it is a place where all the young kids on their scooters congregate.

Shops: A building consists of X amount of garage doors. They each have their entire business behind that single door including restaurant, hair salons and all sorts of parts. It is strange that most beer is served warm and dishes are kept in the refrigerator.

Restaurants: Scary! Water is dirty, nothing is sanitary. I am always surprised to see what is being served and that I am not sick the next day. The food is served in a multitude of bowls to be shared. The style changed as we moved north from blah to spicy. Rice is not eaten as much since they consider rice to be poor people food. They want to show they are not poor, but they are. You never receive coffee anywhere, only hot green tea.

Bathrooms: Entertaining! Most hotels have a Western style toilet in the room but in the lobby they have the leaner option (A hole) Away from the hotel it is open, co-ed and not much more then a stinky trench. As I said earlier always bring your own TP.

T.V.: Propaganda, lots of news, old Chinese type shows, military victory shows and western style weight loss advertisements that vibrate the weight away. Broadcasts are in Mandarin and have Cantonese subtitles.

English: They know hello, and good-bye. So we were all on about an even keel.

Road Rocks: Large painted rocks in the road pointing out a bad section of road ahead. So rather then fix it, they mark it with something equally as dangerous. Don't drive at night. If a truck breaks down the driver lays out rocks at an angle back to a single cone.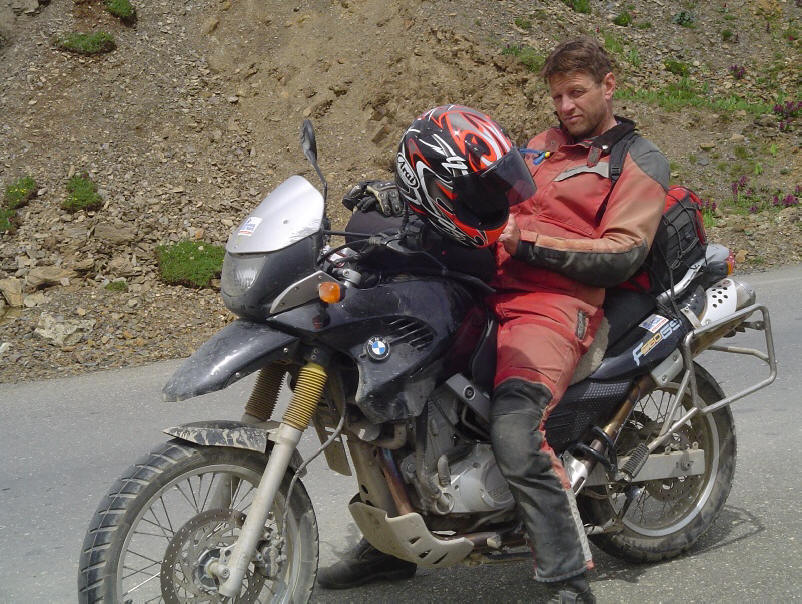 ---
Copyright © 2000 NTNOA All rights reserved.
Revised: January 05, 2018.