(Listed 2/16/2014)
1992 BMW R100R (Black) - $3,300 OBO
• 86.5K miles
• Upgraded charging system -- new brushes and Omega Diode Board from http://www.motoelekt.com/charging.htm
• New rear tire
• New battery
• New oil cooler return line
Contact Michael Marshall at michaelmarshall@mac.com
---
(Listed 2/16/2014)
2001 Suzuki SV650S. Only 8,565 miles. I purchased this new added a FOX double clicker shock. Forks were upgraded with Progressive Springs and Race Tech's Gold Valve Cartridge Emulators along with preload adjustable caps. It has a M4 full exhaust system. Brake lines were replaced with SS braded lines. A rear hugger, gel seat and pillion cowling was added. Comes with rear stand. For the last seven years it has been garaged kept without being run.

In the last three months I replaced the battery, chain, brake fluid, spark plugs, oil, oil filter and air cleaner. I had the carbs professionally rebuilt and upgraded to Dynajet specs and the gas tank cleaned and coated. The tires are in great shape. The bike has never been down. It has a clear title, new registration and inspection. $3,400. Contact roy@ntnoa.org
I believe this to be the nicest carbureted SV650S on the planet.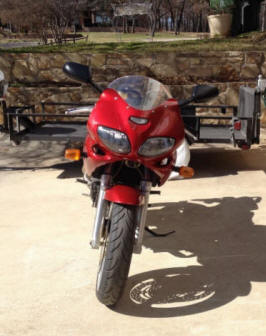 ---
(Listed 11/25/2013)
1983 BMW K75 (RS). Excellent condition K75 with R100RS fairing and custom paint. Luftmeister exhaust as well as stock system. New tires. Handlebar pull backs. Corbin seat. Braided SS brake lines. Recent full service. These models are famous for their smoothness and virtually indestructible engines, with many out there with over 500,000 miles on them without any serious work required. This bike has only 71k on the clock. Comes with the original tool kit and owner's manual, as well as a stack of maintenance history. $3750. Contact Boxers by Bruce at katbod@aol.com
Click on photo to enlarge.
(Updated 7/21/2013)
Michael Thomson motorcycle collection, Hot Springs, AR. Make, Model, Year and Asking Price are in order below.
I'm selling my collection. Please take a look, if you have a interest or questions , Please call 501-525-9833, cell # 214-557-6012 or, e-mail safari100usa@yahoo.com

1934 BSA, BLUE STAR, WITH DUSTING SIDE CAR $20,000
1935 RUDGE, TOURIST $8,000
1958 HARLEY DAVIDSON, DUO GLIDE $25,000
1963 HARLEY DAVIDSON, SPRINT H $8000 ( listed on ebay )
1965 HARLEY DAVIDSON, ELECTRA GLIDE $25,000
1973 TRIUMPH HURRICANE, X75, VERY RARE, I HAVE TWO. $25,000 each
1974 BMW R90S $12,000
1977 HARLEY DAVIDSON, XLCR, CAFE RACER $11,500
2001 HARLEY DAVIDSON FXDWG2 WIDE GLIDE $15,500
2002 BMW RT $ 6500
---
---