Our January 2017 Club Meeting was Sunday, January 29th at Pappas Bar-B-Q.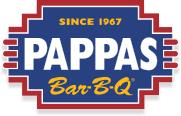 2231 W Northwest Hwy, Dallas
Our January club meetings at Pappas' Bar-B-Q have become a tradition since 2003. We always seem to have a record turnout and great weather. This Sunday was no exception with about 100 members in attendance and perfect riding weather as evidenced by 90% choosing to ride to the meeting, mostly on vintage bikes.

Dennis Tackett opened the meeting promptly at 2pm by welcoming new members and guests. Old business included the recent Int'l Motorcycle Show at the Dallas Convention Center, 13-15 January. Michael Marshall acting as our Event Coordinator was responsible for organizing and managing our display and coordinating with the promoters. According to the promoters our display was the highlight of the show. It was also perhaps the best display the club has ever had at any event. The raffle bike sales netted an impressive $1,755. More information can be found by clicking here.

New business started with a discussion of the upcoming Spring Hill Country Ride centered in Leakey, TX, Thursday, April 27th through Sunday, April 30th. Room accommodations are filling up rapidly so if you plan on attending you need to contact Mike Mediterraneo if you haven't already. More information can be found by clicking here.
Membership Patches were handed out at the meeting.

Mike Mediterraneo and Dennis Tackett handed out club patches to members with at least five years of membership. These patches are suitable for sewing on your riding jacket. Eligible members received a patch corresponding with the number of years of membership in five year increments. There are patches for 5, 10, 15, 20 and 25 years of membership. Each eligible member received a patch for each of the five years they were a member, i.e., members with 25 years of membership received patches for each five year increment. Additional patches are available for $10 each. Members with less than 5 years received an NTNOA sticker.
The Land O' the Pines Rallye field events last year at Diamond Don's were a lot of fun. They will be greatly expanded this year and will start much later Friday afternoon. They should start late enough to allow folks to leave the DFW area after work and get to the rallye for the events.

Our next meeting is at Professor Pete's Decorum Emporium on Sunday, 26 February. You may know Peter as the helmet specialist at Moto Liberty and a good friend of the club. Details can be found by clicking here.
Click on photo to enlarge.
| | |
| --- | --- |
| | |
| | |
| Jay Pope | |
| Darrell Leverington's El Camino w/ 327cu in 350 hp | Jack Wilson's Bonneville Pit Bike |