Kevin Roger Edwards
1957 - 2004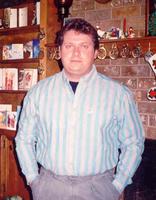 Kevin Roger Edwards, 46, passed away Saturday, May 29, 2004, at an Arlington hospital, surrounded by his family and friends.

Memorial services were held Thursday, 3 June in the Moore Funeral Home Chapel.

Born in England in 1957, Kevin emigrated to the U.S. with his family when he was 2 years old. His family moved to Texas in 1975. Kevin graduated from Lamar High School in Arlington the next year. He held several jobs in the transportation industry.

Kevin was an avid motorcyclist with a small collection of eccentric brands. He was a member of several local bike clubs including the NTNOA. He often served as unofficial Texas correspondent for Cycle World magazine where his brother David is Editor in Chief. Other hobbies included aviation, music, camping and backyard barbecuing.

Kevin's courageous two-year battle with cancer and its complications will remain an inspiration to all who knew him.

Survivors: Mother, Doreen Edwards of Arlington; brother, David Edwards of California; uncle, Bob Hart and family of California; and Jordan, a particularly affectionate corgi mix.
God speed Kevin.
---
Copyright © 2000 NTNOA All rights reserved.
Revised: January 05, 2018.